The following vision for Mohammadpur Krishi Market is inspired by the traditional market place with an aim to become a new heart and soul for surrounding community. A live, work, play, destination for the city, the project will comprise a combination of low-rise, ecologically sensitive levels of retail, a new public square with generous underground parking. As the city corporation has a redevelopment plan for Krishi Market, it offers a great opportunity to generate it as a community square where people from Mohammadpur and Shaymoli area will get a vibrant place for social gathering and informal activities.
Mohammadpur was planned in 1950's as a residential area. Before construction of Beribadh [embankment], this area had waterway access from the West. This residential area kept growing with new housing areas like PC Culture Housing, Adabor, Nobodoy Housing, Japan Garden City and many more. Krishi Market is one of the key vigorous spaces within Mohammadpur, which was established under the ownership of the Directorate of Agriculture Ministry for Agricultural Marketing of Bangladesh. This Market serves like the storage hub of Rice and Lentils for entire Mohammadpur and Adabor thana.
At present the market is operated by Dhaka North City Corporation.  The whole area has two major parts. One big Aarot  [Entry top ] in one side and a big Kacha Bazar and grocery shop on the other, in between few residential plots. Front part is the Aarot ,covering a huge area [over 5 acres],with over 150 shops. The storage provides employment to more than 1400 workers and daily labourers. Krishi Market Kacha Bazar was established in 1982 [with almost 2 acres of land] by government, They started with 400 shops in the market where garments, groceries, jewelry, plastic items and household products,stationery, vegetables and fish, meat are sold at reasonable prices. [1]
This project has been developed through multiple phases-
First, considering City Corporation's demand and local need, Krishi Market needed to be doubled in terms of number of shops and the area. The Bazar has been positioned at the semi basement level with separate ramps for the customer and  the van for loading-unloading. The lofty 23' height Bazar with separate zone for the vegetables, fruits, fish, meat, poultry and slaughter-space has been designed considering ample natural light and ventilation with waste and water disposal possibilities. Multiple entry/exit paths, wide circulation spaces and enough display and storage space for the vendors will enhance the worth of the Bazar. Almost 150 extremely colorful spice shops at ground floor with courtyards will create a unique ambiance for the market. It could be a great fascinating element for the city also. First floor and the second floor with wide corridors in both side of each block are designed in this non air-conditioning market to attend the huge buyer and their flows. The market design has tried to create the perfect harmony between tradition and modern innovation while catering to the city's booming business, retail and residential demands. The new design market will be a city in microcosm. It will unite high end retail and grocery goods shops with individual courtyards and alleys, together with food markets and craft-based trades specific to the region. Avoiding the generic feel of the universal shopping mall, the scheme will fuse the local vernacular with global aspirations. Total number of vendor/shops in this newly designed market is over 500 [including bazar] which doubling the existing market area.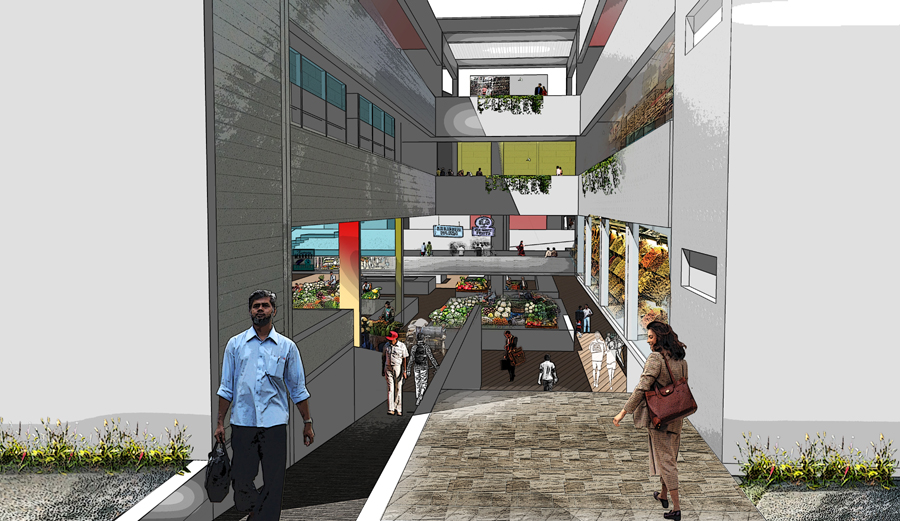 Second phase was to deal with the Aarot. Existing Aarot has easy communication with the main road. Hundreds of trucks, pickups and rickshaw vans carry goods to the market every day. The market sells goods to wholesale retail shops of different locations of the Dhaka city. But most of the internal road is blocked with goods discarded all over the place, though they have enough space in their shops. Unauthorized tong, tea stall, restaurant and haphazard truck and van stand for loading and unloading has created a chaos situation inside the Aarot. In this phase first priority was to ensure clear circulation and easy loading-unloading chance for the vehicles. Internal road network has been developed and the most necessary services for the labors, like, control office for each block-so that they can control and count the delivered goods, common rooms for their leisure time, proper bath, wash and toilets, clean restaurant, one medical center with first aid and other facilities, fire unit stand for emergency, cooperative office, seed selling center, proper rickshaw van stand has been provided. With this reform the Aarot may accelerate its existing condition.
Third and the last phase was the roof top of this vast Aarot blocks. There are certain differences between Aarot and general storage/ warehouse. Supplies from different area come to Aarot for a shorter period of time for storage [maximum 48 hours] and distributed these commodities into different local bazar within this short time. But in warehouse goods generally stored for several days or months. So Aarot supplies should be kept within reach of hand to quick loading unloading and rapid delivery. Consequently vertical storing is not efficient for this type of storage. So Aarot expand horizontally not vertically. Krishi market Aarot has enough storage for next 10 years. So it has a great opportunity to custom this unused Aarot's roof top.  First of all the blocks has been connected and multiple ramps and stairs have been placed[without obstructing Aarot circulation] so that people can come on top of it from different directions, from Mohammadpur ,Shaymoli and Adabor area. These area has a serious shortage of open and green space according to the standard of DMDP and DAP [2010]. Mohammadpur area needs aprox. 40 acres and has 10 acres while Adabor thana has 5 acres and needed 20 acres open space as well. So if we count this Aarot top as a community open space/gathering space/square we can add at least 6 acres of land for the community of Mohammadpur. This vast open space can be used for various activities. One part is dedicated for the children-which is called child zone where different kind of outdoor play elements will be added for the kids. Other part can be used for outdoor games facilities where people of different ages will get badminton courts, big chess board, Ludu board, Sholo[16] Ghuti board in life size,table tennis table and other traditional games, etc. In another part portable movie theater, outdoor class rooms is provided to promote awareness for the socially deprived people. This part is called social activity corner. At the middle, a platform is provided with plantation and sitting so that people can come in this square and spend time. This part will act like a heart- extensive and intensive green roof detail has been used on top of this part so that a number of plantation can be done here-which will cool down the surface, shade the surface and will create a pleasant environment. A big restaurant and a library is also designed on the roof top. Local food like chotpoti, chaap, parata can be served here. As a whole this roof top will act as a gathering community square for the Mohammadpur area.
| Image gallery |