3 Points consultant was formed in March 2012. Principal Architect himself is the founder of this firm. This very young but promising firm is now evolving with various types of projects such as residential, commercial, industrial, institutional, hospital and of course with various interior design & execution. The firm is also engaged with project construction management. Their motto is ''simple planning ......greater impact'' and they like to believe that in today's complex world there is nothing better than simplicity.
From the Architect:
My client is settled in America for the last 25 years who started his business in Koya Bazar, Khulna Bangladesh 3 years ago. He comes in Bangladesh at every month for 7-10 days for business development and stays at the hotel in Khulna city which is quite distant from his industries. So he wanted to build a house for himself and for his guests where he can stay and spend some refreshing time as well as it can be used as a vacation house for his family and relatives.
From that point of view, He bought a land in Koya Bazar,15km far from Khulna Proper.The site itself is quite beautiful in its natural setting surrounded by water on three sides and full of greeneries including 2 ponds within the site. Besides, both side of the access road are full of mango and coconut trees giving an welcoming expression. The site was previously used as a poultry firm.
The North-end part of the site was chosen for the development which has the view of a river on north and the west side as well as a pond on the east and the south side, giving an expression of an island surrounded on all sides by water.
The main intension of the design was to create indoor-outdoor relationships with its surroundings providing different framing experience, keeping the existing natural beauty as it is.
A welcoming approach to the porch is created by a beautiful garden lawn, which ties the formal living and pond at the east side. On the south side, a boundary wall is placed parallel to the south side which is visually connected with the pond on the other side of the wall to some extent.
A deck is introduced at the east side with stairs down to the pond where a boat will remain tied with a stick, giving an impression of a Khea Ghat as well as a place for public gathering. A krishnachura tree is placed beside tha Ghat, just in front of the dining area in order to enhance the beauty of the pond.
To keep Formal living area close to the lawn level, it is stepped down to 18 inch from the plinth level where a double height space introduced with skylight roof allowing the opportunity to experience the nature in different occasions (moon light, rain drops, cloudy sky etc) which is also enjoyable from upper level family living.
To invite the nature into indoor spaces, large openings are used very thoughtfully to create maximum visual connection with the natural environment. Vertical Louvers are introduced as sun breakers, keeping visual linkage and allowing gentle breeze to pass through. Pergolas are used as shading device ,creating dramatic environment of light-shadow as well as giving the experience of a semi open space at a time.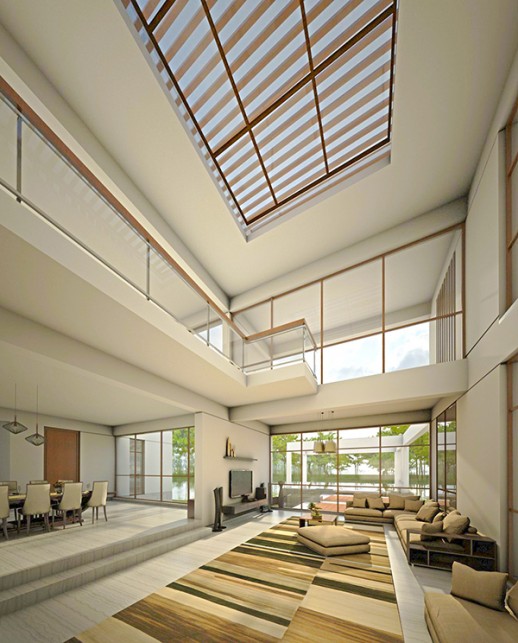 Wood will be used for window framing,stair railing,pargolas and railing.In roof, deck, paved area and boundary wall, Satkhira Clay tiles will be used which is only 45km away from the site.
My Client is very much fond of a Corn Storage, traditionally called 'Gola', which is quite rare/lost in our heritage. It is designed as a sculptural element and placed at the south-east corner of the court yard. It is visible from M.bed, Living, Dining, and from the deck.
Project Team:
Principal Architect:  Ar.Tapon Kanti Sarker (S-125) (BUET)
Project Architect: Ar.Md.Ridwanul Haque(AE-265) (AUST)
Associates: Jr.Ar.Mithu Hossain;  Jr.Ar.Shamim Reza